Activities
App of the Week: iMovie
by Jeana Lee Tahnk
---
iMovie
Cost: $4.99
Works on: iOS
For those of you with iPhones and iPads, there is probably a treasure trove of wonderful kid photos and videos that are doing nothing more in your Camera Roll than taking up space. To do something with those gems – and in the process, create keepsakes that can be shared and treasured – Apple's iMovie app is worth checking out.
Using existing content (or taking new footage), you can stitch together Hollywood-style trailers and mini-movies of your kids and their fun moments, whether it's a birthday party, the first time they ride a bike or simply a day at the park.
IMovie has a variety of themes you can choose from, including Fairy Tale, Retro, Superhero, Swashbuckler, Coming of Age and more, which set the tone for your project. Content can be easily added from your camera roll and the interface lets you easily figure out how to trim videos, adjust the timeline, split a clip and more.
The result? A gorgeous reel of your child that looks like it came out of a Hollywood studio, complete with opening credits, an accompanying soundtrack, cast names and customizable movie studio logos. The masterpiece can be shared online, via iMessage and even can screen for a captive audience over your Apple TV.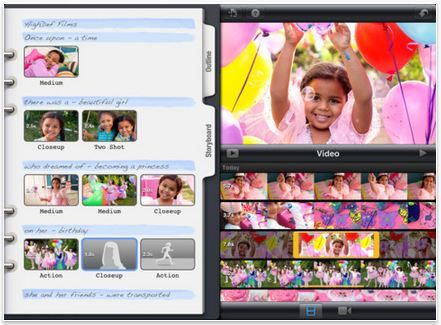 iMovie is available from iTunes for $4.99. For more on what to do with those photos on your iPhone, check out these gift ideas!
If you have an app that you'd like considered for Screen Play, please contact jeana@jeanatahnk.com.