Activities
App Picks of the Week for Mother's Day Greetings
by Jeana Lee Tahnk
---
There are plenty of ways to send a greeting right from your mobile phone, guaranteeing an on-time delivery. With many options for card designs, greetings and customizable features, here are a few of my favorite apps for sending an e-card to that fantastic mom. (And beyond Mother's Day, these are great for any occasion!)
Mother's Day is right around the corner which means there will be lots of breakfasts-in-bed, flower bouquets, kisses and hugs given to deserving moms on Sunday. In addition to these special treats, another great way to show mom you care is with a greeting card and heartfelt message inside. But with the holiday only three days away, you may have missed the mark to get that card delivered in time.
Fear not. There are plenty of ways to send a greeting right from your mobile phone, guaranteeing an on-time delivery. With many options for card designs, greetings and customizable features, here are a few of my favorite apps for sending an e-card to that fantastic mom. (And beyond Mother's Day, these are great for any occasion!)
Works on: iOS
Cost: FREE for the app and digital greetings
Red Stamp, a former pick of the week on Screen Play, has always been a favorite of mine. The designs are beautiful and modern, and the app interface makes it easy to send out well wishes to anyone in a few clicks. You can also customize the greetings with photos (taken from your camera roll or in-app) and keep track of cards you've already sent out. Great for staying organized if you have a whole slew of moms you want to pay homage to on Sunday.
For postal mail greetings, premium designs start at $0.99; printing + mail-for-you pricing from $0.49-$1.99/card, which includes postage.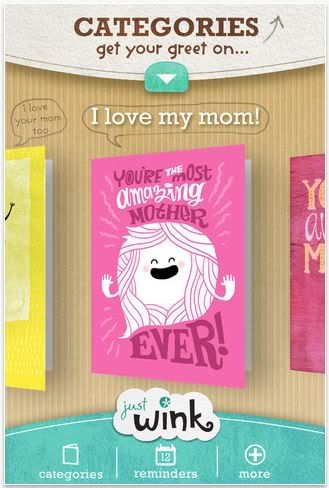 Cost: FREE for the app and digital greetings
justWink offers a great variety of cards for any occasion, but the ones for Mother's Day range from sweet, "You're the most amazing mother ever," to feisty, "Yo, mama." All the cards are beautifully designed and personalizing them is a snap. Simply choose your card and then add your message, photo, even a digital signature. Once your creation is done, you can email, text, post to Facebook or send via postal mail.
Pricing for justWink's postal mail cards start at $2.99 including postage.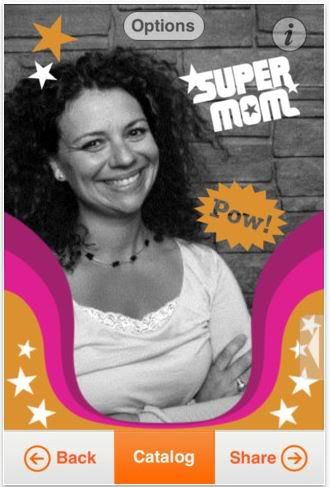 Works on: iOS
Cost: FREE
To send a more photo-centric greeting, the Smilebox app offers lots of options of adding flair to photos with stickers, captions and frames. Take a photo of your favorite mom (or grab one from your camera roll) and instantly jazz it up with the many options like "my mom kicks butt" and "supreme awesomeness," my two personal favorites. You can then send your photo creations via email or text, or post on Facebook.
There are lots of design choices in the free app, but access to more "premium" designs is $4.99/year.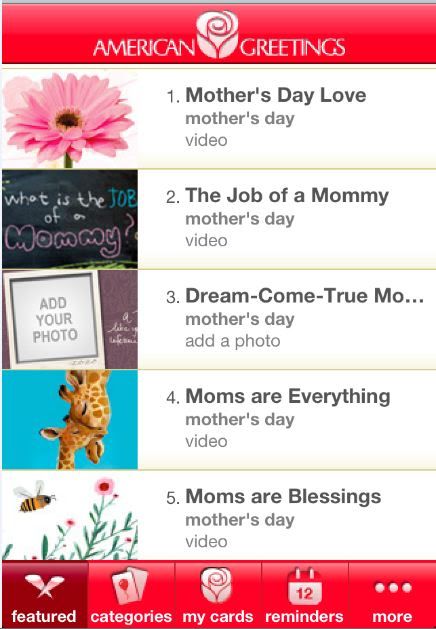 Works on: iOS
Cost: FREE
The American Greetings app offers a fun and free way to create personalized greetings on-the-go. Available solely as a digital e-card service, this app lets you choose from a huge variety of cards and even offers video greetings to send to your loved ones. Check out the "What is the job of a mommy?" video to see adorable testimonials from kids on what their mommies' jobs are. Awwww.
If you have an app that you'd like considered for Screen Play, please contact LetsPlugIn@gmail.com.