Activities
App of the Week: Kidglyphs
by Jeana Lee Tahnk
---
In that period of time when you're not sure what your baby wants and you need a little help with communicating better, check out an app called Kidglyphs.
Works on: iOS devices
Cost: Free
For: Toddlers and parents who want to communicate better
If you've spent any prolonged amount of time with a toddler, there's a good chance she has expressed frustration because you do not understand what she is saying. She knows what she wants, she's trying to verbalize, but you're just not getting it. Cue: temper tantrum.
In that period of time when lanugage is developing and you're not quite sure what "bbbbaaaaaabb" is, check out an app called Kidglyphs. Created by Dr. Alan Greene, MD, a renowned pediatrician and contributor to Parenting Magazine, Kidglyphs provides language-building kids (and parents) with the visual cues to help identify what it is that they want. He says that at an early age, kids can understand more than 100 words than they can say. That's pretty amazing – and understandable that they would tantrum.
The free app comes with 34 "glyphs" or illustrations of basic everyday needs and actions like "bath," "mommy," "daddy," "eat," "drink," "book," "banana" and more. When the image is pushed, the word is narrated, further helping solidify its pronunciation for the child. Kids who are a little older can even start putting words together to form short sentences like – mommy, milk, all done. There is even a built-in game that kids can play to help them identify which pictures go with which words.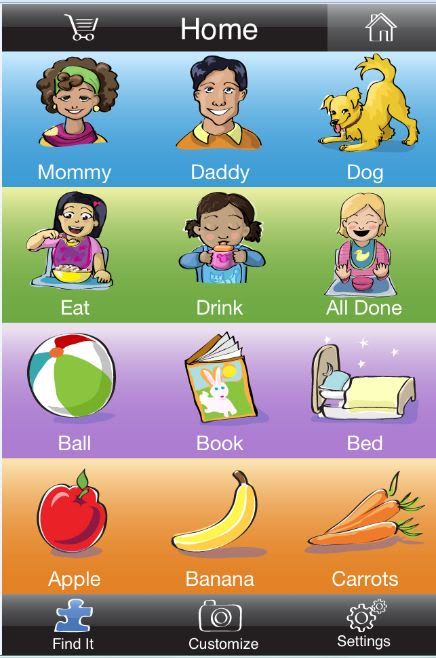 Parents can customize the app to add photos of themselves (and grandparents) to make it even more personalized for each child. Kidglyphs is a great way for kids to help boost their language learning – and in the process, may make communication a bit easier. Anything that helps make those terrible twos a little less terrible is worth checking out.
Kidglyphs is available for free from iTunes. Additional packs of 30 Glyphs can be purchased within the app for $0.99.
If you have an app that you'd like considered for Screen Play, please contact LetsPlugIn@gmail.com.