Activities
BellyBeats Lets You Hear Your Baby's Heartbeat at Home
by Jeana Lee Tahnk
---
Instead of waiting a month in between hearing this magical heartbeat, imagine being able to hear it at home whenever you want. BellyBeats lets you do just that
In the first and second trimesters of pregnancy, it can be hard for anxious moms-to-be to wait a month between each appointment to check in on the baby. The reassuring thump of the baby's heartbeat at each month's routine appointment is such a wonderfully reassuring sound that gives moms the confidence that baby is safe and sound inside.
Instead of waiting a month between appointments, imagine being able to hear that magical heartbeat at home whenever you want. BellyBeats lets you do just that with its line of fetal Doppler monitors that you can rent. With three different handheld monitors to choose from, their fetal monitors are available on a month-to-month basis and range in price from $25-$45 per month.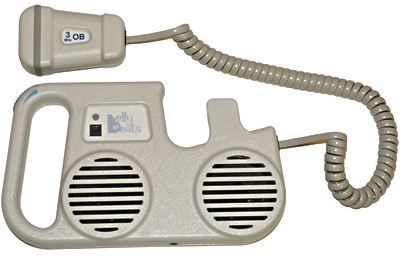 The least expensive, the Fetal Doppler – Baby Hear Monitor (shown above), is a lightweight device that can easily be transported around the house, or even in your purse for when you visit friends and family. BellyBeats also offers digital fetal Dopplers that are similar in size and provide digital displays that calculate your baby's heart rate right on the screen.
All rentable monitors come with instructions, a 9-volt battery and ultrasound gel that transmits the sound more effectively. These monitors are similar to the ones your OB uses and are safe for use at home as well (but you should inform your doctor that you are using one).
You can keep the monitors for as long as you like and pay the monthly rental fee for the unit you have selected. If you decide to purchase the unit for your current and/or future pregnancy, any payments made towards the rental will be applied to the purchase price.
Plus: New 3D Ultrasound Will Let Parents See Baby in Color
Being pregnant for the third time, I still get flutters every time I hear the baby's heartbeat. And it has been wonderful for my other kids to be able to share in the magic and help them bond with their little baby brother or sister-to-be.
Hearing a baby's heartbeat is just as special the first time as it is the fifteenth. And having the ability to check in on the baby while at home is a gift that any mom-to-be would treasure.
If you have a question for Screen Play or would like to submit a product for consideration, please contact jeana@jeanatahnk.com.