Activities
Lost Kidz is a Must-Have App for Keeping Kids Protected
by Jeana Lee Tahnk
---
As a parent, there is nothing more terrifying than the thought of losing your child. The sheer panic that consumes you is suffocating and is one that can stay with you for years, even after you've long been reunited with your child.
Now, thanks to an app called Lost Kidz, parents will be able to rely on the community of kind people around them to help locate a child, should they ever find themselves in that kind of situation.
Launched today, Lost Kidz is an emergency mobile alert system that lets users immediately notify other app users in the area that their child has gone missing. Parents fill in the details of their child after the app has been downloaded to have information available immediately in the event of emergency situations. The minute a child is lost, an alert can be sent out with additional details on what the child was wearing and where he/she was last seen. The app persists with its alerts and continues to reach wider radiuses of people until the alert has been canceled and the child has been found.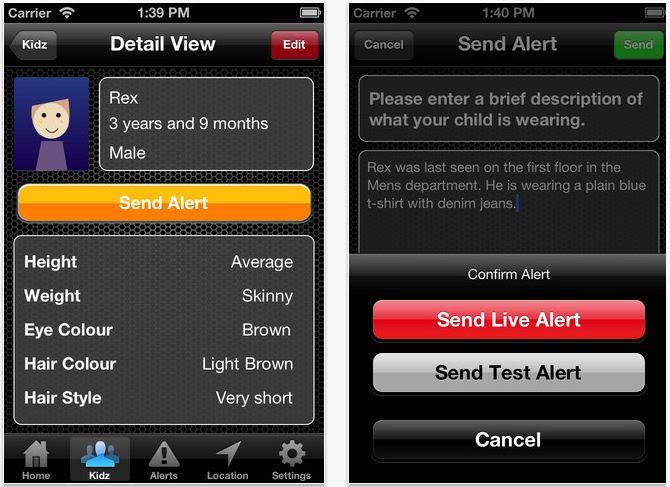 While there are other alert systems in place, like Amber Alert, sometimes the delay in disseminating information can take valuable time away from the search and recovery efforts. Lost Kidz provides an immediate notification to everyone in your area and instantly creates a community of people who are able to look as well.
The key to success for this app is how many people have it. The more people who have it on their phones, the more effective it will be. The app is free to receive alerts and $0.99 for an annual subscription to send alerts. With the tens of millions of iPhone users out there, imagine how much safer our communities would be if we could rely on the good citizenship of people to keep our kids safe.
Here's a brief video explaining how the app works, as well as a handy FAQ section on the Lost Kidz website that will address any other questions.
Would you pay $0.99 to keep your child safe? I know I would.
Lost Kidz is currently available for iOS devices, with the Android version in development.
(Full disclosure: I provide consulting services to Lost Kidz and serve on its Board of Advisors. The importance of this app and its mission of creating safer communities for children was my reason for writing about it.)
If you have a question for Screen Play or would like to submit a product for consideration, please contact LetsPlugIn@gmail.com.