Activities
A Netflix-Like Service for Children's Books
by Jeana Lee Tahnk
---
A new service called Sproutkin delivers children's books right to your door every month
One of my favorite times of day with my kids is bedtime (and no, that's not just because I know they're going to bed soon). Bedtime reading has been a ritual that we've had in place since our kids were babies and not only is it a great time for bonding, but also for exploring different characters, storylines, cultures and more.
Most kids have a small collection of tried and true favorites, interspersed with books from school or the town library, and while kids will get stuck on reading the same books over and over (and over) again, a variety of books to choose from keeps bedtime entertaining and gives something both readers and those being read to can look forward to.
Plus: Toygaroo is the 'Netflix for Toys'
Thanks to a new service called Sproutkin, kids can get a never-ending supply of wonderful children's books delivered right to their door every month. Subscriptions are available for two age groups – babies aged 0-3 and preschoolers 3-6. For $24.99, each comes with books geared towards the particular age in question.
The infant Sproutkit comes with 2-4 board books, a game, an activity card and toy, all for the recipient to keep. An example of a Sproutkit for a 12-month-old might be books exploring new foods and perhaps a food-themed toy.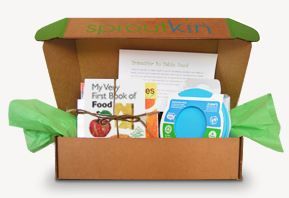 Sproutkits for preschoolers work more like a Netflix subscription where kids receive up to 10 books that they can read and keep for as long as they want. If they decide to return all the books within a month's timeframe, the next month's delivery will include 10 new books for them to explore. If they decide to keep a few of them for longer than the month, then the next delivery will contain fewer books. What's great is that these kits also center around a certain theme each month and include a discussion card that the parents can use to engage their kids in conversation about the stories they have read.
The Sproutkit I received was beautifully wrapped and contained a variety of books that centered on the theme of food. Included were some familiar favorites like, Blueberries for Sal and Bread and Jam for Frances, along with other new titles including one that I personally loved called Bee-Bim Bop, a story about a little girl helping her parents make the traditional Korean dish. For stories like these that your kids love and don't want to send back, there's an option to just keep them and you pay 10% off the retail price.
The Sproutkin subscription is not cheap, but getting a limitless library of reading adventures for your child as they grow up is priceless.
Subscription boxes for Sproutkin start at $24.99. For more information on pricing or for gifting subscriptions, please check here for more details.
If you have a question for Screen Play or would like to submit a product for consideration, please contact jeana@jeanatahnk.com.