Activities
'Tis the Season of Christmas Carols with the Bose SoundDock Series II [GIVEAWAY]
by Jeana Lee Tahnk
---
Holiday confession: I'm that person who starts playing Christmas carols the minute that Thanksgiving is over. There's something about the jingles and rings of those traditional tunes that adds such a festive feeling to the season. You can't go wrong with Bing Crosby.
I recently had a chance to preview what some of these tunes sound like on the Bose SoundDock Series II system and I was instantly transported to a land of sugarplums and silver bells. The Bose name behind the SoundDock speaker continues its tradition of rich sound quality and a crispness that customers have come to love.
Serving as a docking station for an iPhone or iPod, the SoundDock makes broadcasting your playlists super easy. You can either access your music library from the iPhone or iPod itself, or use the included wireless remote to reign as the household deejay – which is very helpful if you're far from the unit and want to switch up the tunes.
While it can only house iPhone or iPods directly in the dock, you can purchase a separate auxiliary cord to connect any other MP3 player, or get a converter to dock your iPhone 5 or 5th generation iPod. It's a bonus that your devices charge while plugged in, too.
The size of the unit is compact, making it easily transportable from room to room, or in my case, front and center in the kitchen so I can bask in all my carol glory. Time to go Jingle Bell Rock.
The Bose SoundDock Series II system is available exclusively at Target, in its extensive electronics department, and sells for $224.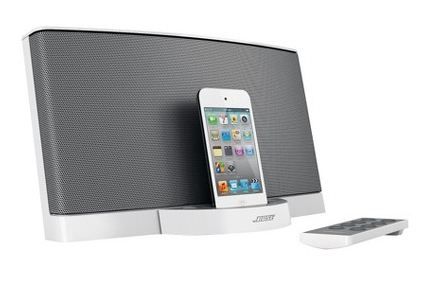 **Target is giving one lucky Screen Play reader the opportunity to experience the beauty of Bose (whether for Christmas carols or other music) and is giving a SoundDock Series II away, valued at $224!
Simply click here to enter for a chance to win.
The giveaway runs from Tuesday, Nov. 20 – Tuesday, Nov. 27. (Read the official rules here)
GOOD LUCK!!
If you have a question for Screen Play or would like to submit a product for consideration, please contact LetsPlugIn@gmail.com.