Activities
Possible Twins Reunited Through Facebook, YouTube and Kickstarter
by Jeana Lee Tahnk
---
The miraculous story of two girls, possibly separated at birth, and how they found each other again
We've all heard of miraculous reunions on Facebook, but Samantha and Anaïs' inter-continental story may just take the social media cake.
Samantha is an actor who lives in Los Angeles, and last month, received a Facebook message from a complete stranger on the other side of the world in France. This woman who sent the message, Anaïs, happened to see a YouTube video of Samantha and was taken aback by the face she saw online. It was identical to hers and she had to connect to this woman she thought could be her identical twin.
After the initial shock, she began doing research and found out that both she and Samantha were born on the exact same day, November 19, 1987 in South Korea, and were both adopted soon after.
She sent the following note to her potential twin: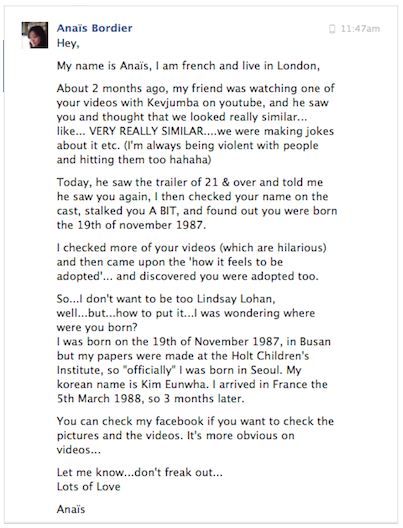 They have since connected via Skype (check out their similarities in the photo above!) and have launched a Kickstarter campaign to fund a documentary about their entire journey, including footage of their very first in-person reunion and DNA testing to confirm their blood relations. The campaign has already exceeded its goal of $30,000 with 22 days still left in the pledge.
They state on their Kickstarter page, "Our goal is to reveal every step of their journey, in order to exhibit an experience never documented before."
Check out the video montage they pulled together:
What an amazing story of chance, fate and the power of social networks.
If you have a question for Screen Play, or have ever been miraculously reuinited with a long lost twin in Facebook, please contact jeana@jeanatahnk.com.