Works on: iPhone and iPad  
Cost: $1.99
For: Kids who want to be Santa's little helpers
With exactly 12 days until Christmas, I thought it very fitting to select the 12 Days of Christmas app by Polk Street Press as this week's pick. If kids aren't already familiar with the song, they soon will be with the help of the whimsical pictures and festive singing included in this app.
Kids can choose to either play along or sing along. If they choose the former, the voice sings the song and awaits prompts from the player as to which number is next, "three French hens," "two turtle doves," and so on. Kids can learn this holiday classic and practice their numbers at the same time.
If they opt to sing along, they can even record audio and video of them singing as well. Any sight of kids belting out "Five golden rings!!" is surely one worth seeing and hearing. But be forewarned, a few times your kids play with this app and you'll be hearing it in your head all day long.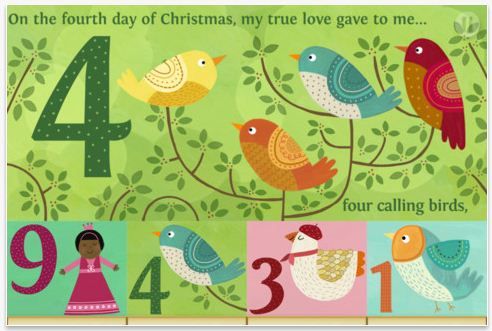 If you have an app that you'd like considered for Screen Play, please contact LetsPlugIn@gmail.com.