Cost: $2.99
Works on: iOS
My kids are huge fans of the PBS KIDS hit series "Wild Kratts." In fact, it's one of the only shows that they both wholeheartedly agree to watch together. If you're not familiar, the Kratt brothers take kids on fun animal adventures, weaving in mystery, intrigue, special 'creature powers' and fun into every episode.   
The Wild Kratts Creature Power app, recently launched, offers kids the familiar Kratt brothers and provides an educational and entertaining extension to the TV show. It has three games - letting kids help bees pollinate flowers; clean dirty elephants; and feed raccoons. Playing the games lets kids earn stickers that they can then use to decorate a Wild Kratts picture. Kids can even put themselves right into a Creature Power suit with any pictures from the device's camera. 
While the app will hopefully continue to add more games and activities with coming updates, it's a great way for kids to get their Kratts fix in while waiting for the next new episode.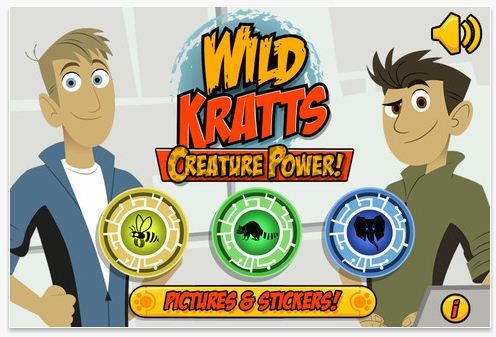 If you have an app that you'd like considered for Screen Play, please contact jeana@jeanatahnk.com.