Seems like just last month when Apple made a big announcement. Oh wait, that's because it was just last month when the illustrious iPhone 5 was revealed. Well, lo and behold, Apple had a lot more tricks up its sleeve and yesterday unveiled a slew of new products, most notably the iPad Mini. Actually, another big surprise was the announcement of the fourth generation iPad with Retina Display. So, the new iPad is no longer new even though that was just announced a mere six months ago. Apple also announced a new iMac and a 13" version of its MacBook Pro. 
But back to the iPad. The iPad Mini adds another layer of competition to the already crowded 7" tablet marketplace. You have the Kindle Fire, the Samsung Galaxy, the Nexus 7 and now the iPad Mini. The iPad Mini is essentially a smaller version of the iPad that comes with all the bells and whistles like an HD front and rear camera, FaceTime, an A5 processor (the 4th gen iPad now comes with an A6), the new Lightning connector and the world of iTunes apps at its fingertips. 
Here's the size difference: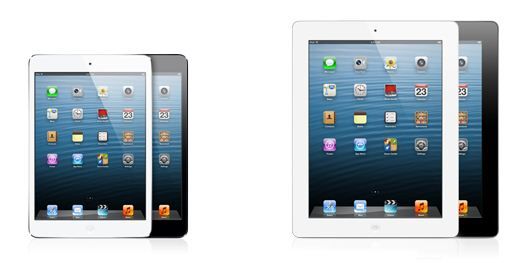 As you see, it is a bit smaller and much more maneuverable with one hand. Though with all the media consumption that occurs on the iPad, some people prefer the bigger size, especially since the latest iPad comes with Retinal Display to make everything even crisper, sharper and more brilliant than before. To get an idea of all the differences between the iPad versions, check out the comparison chart on Apple's site. 
When it comes to pricing, the iPad Mini starts at $329 for a 16GB Wi-Fi model and goes upwards from there. The newest iPad is $499 for a 16BG Wi-Fi model. Both versions come in black and white and work on AT&T, Sprint and Verizon LTE networks. 
Given yesterday's big announcement, there are lots of new products to ogle at your next trip to the Apple Store. And there's no doubt that Apple will have a very, very good holiday season. 
Are you planning on buying the iPad Mini or any of the new products announced?
If you have a question for Screen Play or would like to submit a product for consideration, please contact LetsPlugIn@gmail.com.