I have been working off of the same laptop for about five years now. And although my trusty Dell has stood the test of time, I often look at the thinner, sleeker and much (much!) faster machines with a bit of laptop envy. There's a new aesthetic in laptop computing and the newer models feature tons of features, a beautiful aesthetic and more storage than you'd ever need. One such model that I had the opportunity to test out is the ASUS ZENBOOK UX31. 
ASUS isn't necessarily the first name that comes to mind when you think of PCs, but my experience with the ZENBOOK certainly made it jump up the list of potentials when it comes time to put my current computer to rest. Straight out of the box, I was amazed by how thin and sleek the machine is. It's a 13.3" screen which is certainly wide enough, but it's super thin and weighs less than three pounds. 
The finish is a brushed aluminum which gives it a futuristic feel and when closed, it can slide right into a purse, diaper bag or backpack. The ZENBOOK runs Windows 7 Home Premium software and comes with a 128GB hard drive which provides PLENTY of storage for photos, videos, documents and much more. There is also built-in webcam which is pretty standard on new laptops nowadays and the sound quality is superb, makes sense since the audio was supplied by Bang & Olufsen. Perfect for those Skype calls to grandma and grandpa.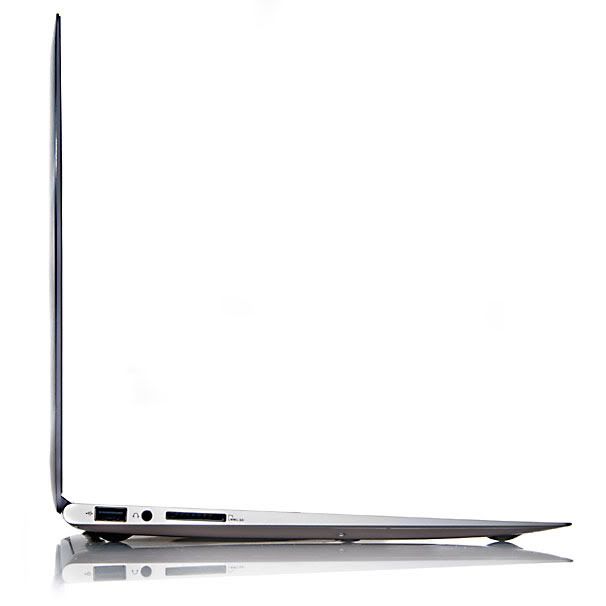 The battery life is about six hours, which should suffice when you're sitting at your local Starbucks and working/surfing/blogging away. The ZENBOOK falls into the "ultrabook" category which means that it is lighter, thinner and has a very quick boot-up time (a huge step-up from mine which takes about five minutes to turn on). But it also lacks certain things that you'd find in a more full-featured laptop like a DVD drive and more USB ports (this one USB 2.0 and one USB 3.0). 
The "Click Anywhere Touchpad" features essentially a huge box at the bottom of the machine that serves as your mouse. It took some getting used to without the discernible buttons like you'd find on other laptop track pads, but it didn't take too long to get the hang of being able to click anywhere in the box. 
If you're in the market for a fully functional, ultra thin and portable machine, it's definitely worth checking out the ASUS ZENBOOK. It's a beautiful ultrabook that would make a nice addition to any workspace (or lap). 
The ASUS ZENBOOK is available from the Microsoft store starting at $1,399.
Windows is also currently offering a fantastic promotion for any high school or college students – purchase this PC and also get a free Xbox!  
*One lucky Screen Play reader will be the winner of an ASUS ZENBOOK ultrabook AND a new Xbox console, a prize valued at $1,600!!
Simply click here to enter for a chance to win.
The giveaway runs from Tuesday, July 24 – Tuesday, July 31.  
GOOD LUCK!!