There are literally thousands upon thousands of kids' apps available in iTunes, but not many that parents would be comfortable having their kids interact with for extended periods of time each day. But with the iPad becoming much more widely recognized as an educational tool and not just a source of entertainment (or distraction) for kids, there are growing numbers of high-quality apps that both educate kids and please parents.
Ruckus Media Group, a leading publisher of digital media for kids, is leading the charge and its most recent Ruckus Reader platform is a bright indication of where kids' apps are heading. Ruckus Reader is essentially a virtual library for kids ages 3-8 and offers a variety of books, activities and games from well-recognized brands like My Little Pony, SeaWorld, Crayola, The Transformers, Chuck & Friends and more.
With an emphasis on reading comprehension and cultivating a lifelong love of books, Ruckus Reader provides kids with enough interaction for them to stay engaged through iReaders (digital storybook titles), e-Readers (e-books), vidReaders (narrated video books). What's great about the app is that each book series offers three different reading levels, ensuring that kids are engaging with age-appropriate books and activities. The concepts and text range from simple to more complex with each progressive learning level, and the activities become more involved as well. So while your three-year-old daughter will be able to keep pace with level 1 of My Little Pony, her older sister can enjoy level 3 of the same series and still be challenged (the app supports up to four different readers).
What parents will love is the technology within the app that tracks how long kids are reading and what kinds of activities they played. This data is then provided to parents through something called the "Reader Meter," a comprehensive weekly report sent via email that demonstrates the child's activity level and progress. It measures things like word recognition, fluency, alphabetic knowledge and story comprehension – all things that are gathered from your child's interaction with each story. The report also comes with tips and reading recommendations that parents can share with their kids. Ongoing progress can also be tracked online when signed into your Ruckus Reader account.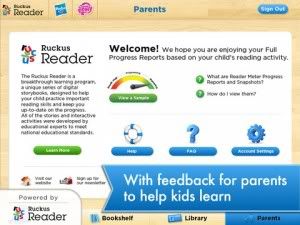 Once all the individual apps are downloaded, they are all access through the central Ruckus Reader bookshelf that is provided through the apps. Ruckus Reader's library of options is continually growing. There are currently 15 well-known books available and approximately 20 new titles and activities will be added to the library every month.
Learning to love reading is something that all parents want for their children. By making reading fun and engaging, Ruckus Reader is helping kids take that first step. 
The bookshelf apps are available now for free in the iTunes App Store when you download a classic bookshelf, and then $3.99 per app; $5.99 per digital bookshelf; or $24.99 for a six month subscription of unlimited access. Parents can create up to four accounts with the subscription, each with their own library of books customized for each kid.
*The folks at Ruckus Media Group are so excited about the Ruckus Reader, they are generously offering one lucky Screen Play reader the chance to take advantage of the app with a brand new 16GB iPad 2 with WiFi! The iPad also comes with a 6-month subscription to the Ruckus Reader so your child will have full access to all the great titles available – a prize package valued at $424!!!!
The giveaway runs from Tuesday, May 15 – Tuesday, May 22.
GOOD LUCK!! 
If you have a product that you'd like considered for Screen Play, please contact LetsPlugIn@gmail.com.