With young kids in the house, the Internet and TV can be highly appealing forms of entertainment but can also present many opportunities for them to come across questionable content. There are so many websites and programming options geared towards children, but the primary priority of every parent is to make sure that what their kids are watching or surfing is age-appropriate. 
If you're seeking a more customizable way to provide your kids with the right mix of TV shows and websites geared for their specific age, or just want to get a better handle on what your kids – who can now work the remote controls – are engaging with, it's worth checking out Fooz Kids. Fooz Kids is a software application that you download to your computer to have instant access to TV show clips, websites, videos, games and educational material. There is also a feature in the application that provides a foray into 'social networking' for kids (adding other friends who use Fooz Kids) and email communication. 
The content is geared towards children of all ages (pre-K through 5th grade) and includes popular brands like Dora the Explorer, Sesame Street, Berenstain Bears, Caillou, Hannah Montana and more. What makes it easy to let their kids explore on their own is that all content must be pre-determined by the parents through the 'Parental Dashboard.' You can be assured that your child won't access any content that you haven't deemed appropriate – even logging out of the service requires a password so that kids don't have the ability to explore the far reaches of the Internet. There are no ads, links or banners that are present in the application which also means that you child won't stray.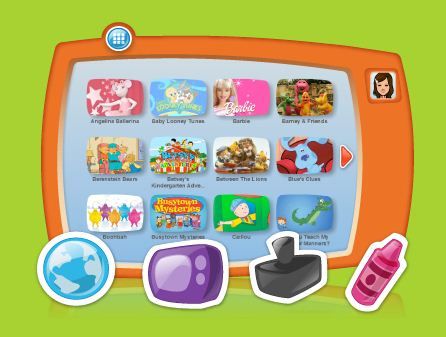 The Parental Dashboard creates a blank canvas for you to create your kid's own content and offers programming, games, videos and activities from all kids-focused sites available such as PBS Kids, Nickelodeon, Disney and more. The content is also broken out by age ranges and recommendations, which makes it easier to customize for your child's preferences. 
The interface is colorful and provides big buttons and clear graphics for kids of all ages to navigate. Once the Parental Dashboard is set, you can have confidence that your child is exploring and learning in a completely safe way. 
The Fooz Kids app retails for $11.99, and is available for download at the Fooz Kids website. There is also a premium version available that includes Fooz Kids University (math education), Fooz Kids Flix (clips to full-length features of kids' movies); and more for $69.99/year.
If you have a question for Screen Play or would like to submit a product for consideration, please contact LetsPlugIn@gmail.com.