There are few sounds more reminiscent of summer than the twangy and circus-like jingle of an approaching ice cream truck. Usually, there is no telling when the ice cream truck will roll through your neighborhood, but for today, if you happen to live in Boston, Chicago, New York, San Francisco, Seattle, Toronto or Washington DC metros, you can summon it to your neck of the woods using the handy Uber app. 
Uber, an "on-demand request app for a private driver," is not in the ice cream business, but is taking advantage of National Ice Cream Month to show people how their app works. Instead of calling for a town car, people in the aforementioned cities can call for a Klondike bar directly from the app. Users in the aforementioned cities can simply click on the ice cream cone icon within the app and set their location. After requesting ice cream delivery to that location, the app will provide details on when the truck is expected (just like how the app actually works for private transportation). 
A couple caveats:
-          You have to download the app and register a credit card.
-          An on-demand visit from the Uber-sponsored truck will cost you $12 (or five ice creams). You can order more when it arrives.
-          It's unknown how many trucks they'll have circulating through each city. The blog says, "If your request doesn't go through, keep trying! There's plenty of ice cream to go around."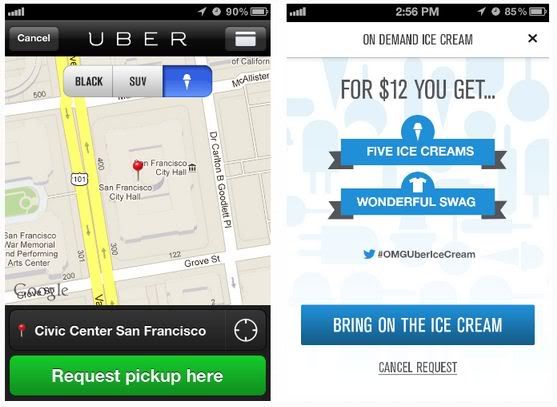 More details on what kind of ice cream (and freebies!) residents of each city will get can be found on the Uber blog. If you're in one of the cities this promotion is being offered in, give it a whirl and comment below on how it worked! Who knows, maybe on-demand ice cream be the next big thing.
Uber is a free app that is available on iTunes and Google Play.