If you've got a bun in the oven and are an avid Facebook user, you may be excited to know that you can now add "Expecting a Baby" as a Life Event to your Facebook Timeline. 
According to a recent blog post on Facebook, parents-to-be can now include this joyous upcoming event onto their profiles. Other Life Event statuses include Engagement, Moving, Getting a New Pet, End of a Relationship, Loss of a Loved One and more. 
More detailed information on gender and due date can be found via the Celebrations section on people's Facebook homepages.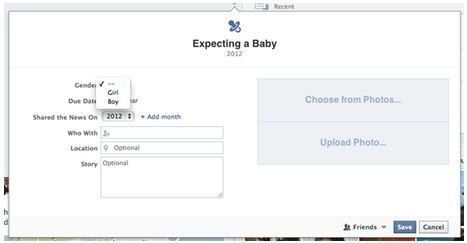 If you are expecting, will you add this status to your Facebook Timeline?
If you have a question for Screen Play or would like to submit a product for consideration, please contact LetsPlugIn@gmail.com.