Tomorrow is the day for family, friends, good food and to think about all the many things we are grateful for. Kids may simply equate Thanksgiving with getting a few days off from school, eating a lot and playing with cousins, but there are a few websites that will add some education and fun to this festive day.
National Geographic Kids is a great site for learning about the history of Thanksgiving. Did you know that the first Thanksgiving meal consisted of deer, corn, shellfish, roasted meat and cranberries? There is a brief description about the relationship between the settlers and the Native Americans, and how the holiday came to be.
If your kids want to add their own personal flair to the dining room table, check out Kaboose for an array of Thanksgiving arts and crafts they can do. A centerpiece made by your child is certainly a great way for them to feel like they have contributed to the day.
When guests come to the door, kids will enjoy saying things like, "Good morrow," or "What cheer?" instead of "Hi, how are you?" And doing so is quite fitting since those phrases are how pilgrims used to speak. Check out the Plimoth Plantation website to see more pilgrim phrases.
Finally, when there is a lull in conversation at the table or people are starting to get sleepy from all the tryptophan, have your kid break out some funny Thanksgiving jokes. Kids telling jokes is always a hit – there are a slew of them at Hello Kids, all G-rated.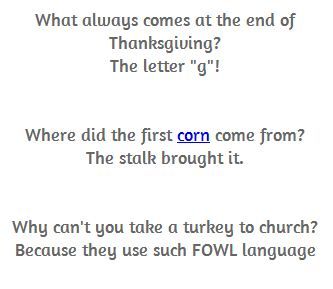 Happy Thanksgiving!  
If you have a question for Screen Play or would like to submit a product for consideration, please contact LetsPlugIn@gmail.com.