I was lucky to attend the Consumer Electronics Show in Las Vegas last month, a gathering for the greatest innovators in technology to show off their latest gadgets, gizmos and gear to geeks like me. Most every big name electronics manufacturer is in attendance (think Sony, Samsung, LG, Intel, Panasonic, etc.), along with 155,000 attendees, making it one of the largest tradeshows in the world.
Along with those household names, many of whose products you surely have in your living rooms and kitchens, the show is also dominated by many smaller, lesser known (and sometimes completely unknown) brands that are trying to make themselves visible to this crowd of gadget lovers. I saw a slew of very cool products that will be rolling out to the general public in the coming months, everything from super smart TVs to waterproof gadget cases to fitness tech to audio awesomeness.
But the following item that I came across literally stopped me in my tracks. Check out this iPad Potty by a company called CTA Digital. The iPad stand is built into the potty seat, giving kids full screen access while they, uh, do their thing (or learn how to). The stand can be switched between horizontal and vertical views and is protected by a touchscreen guard.
I have potty trained two kids and while yes, motivation and bribery often work quite well, do kids really need to have an iPad at their disposal every time they go to the bathroom? Seems ridiculous to me to have the child make such an early connection between going to the bathroom and needing some kind of external stimulation, but hey, but everyone has their own style of potty training, so maybe this seat would work for you. It is now available for preorder on Amazon for $39.99.  
And check out some of the other kooky iPad accessories from CTA Digital. Would you really want your iPad to be housed in an inflatable cube that kids will inevitably start throwing around and bouncing on?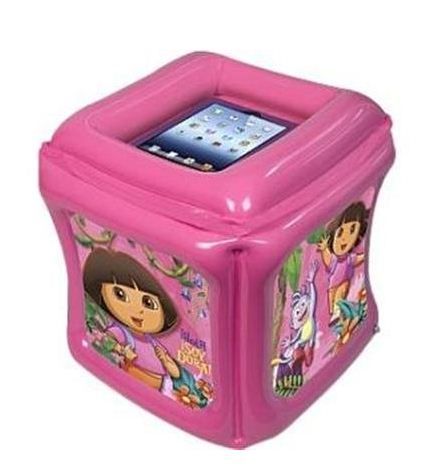 If you have a question for Screen Play or would like to submit a product for consideration, please contact jeana@jeanatahnk.com.