When it comes to kids and your iPad, you can never have enough protection for the inevitable drops and spills that happens when little hands hold, well, anything. I have covered a fair share of kid-friendly iPad cases – LifeProof nüüd, Big Grips and iBallz – to name a few, all offering fantastic protection for those very expensive gadgets.
I'm come across another called the Clumsy Case from Studio Proper, which is a fitting name for the purpose it serves, namely, keeping the iPad safe from clumsy hands. Made from tough and durable foam, the Clumsy Case makes it easy for kids to hold the iPad up while watching something, or sits comfortably on kids' laps while they're tapping away at a game. The rounded edges give it an easy grip and the wave-like pattern on the bottom is a nice extra for setting down on little knees. The case also stands up on its own, which ensures it stays safe from those spills on the table.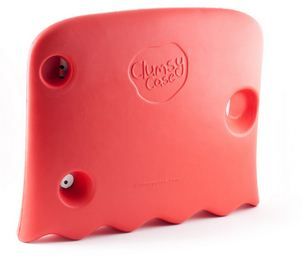 There is access to all the ports, camera, headphone jack, etc., as well as "sound enhancing bubbles" to ensure that those kids' games are heard loud and clear. If your kid uses your iPad regularly, it would behoove you to protect it and protect it well. There are a lot of options out there, depending on what your needs are, but the Clumsy Case is yet another great product to add to the mix. 
The Clumsy Case is available for $39.99 for iPad 2, 3 and 4. It comes in red, blue and green.
If you have a question for Screen Play or would like to submit a product for consideration, please contact jeana@jeanatahnk.com.