BAND-AID® Brand Magic Vision App featuring Disney's The Muppets
Works on: iPhone 4/4S or iPad 2/new iPad
Cost: FREE
When kids get minor boo-boos, putting on a BAND-AID is usually a quick way to make those tears disappear.  Imagine how much better they'd feel on top of that if those bandages were used to magically make their favorite Muppets characters appear.    
Through the magic of technology (and augmented reality), it's possible. These branded bandages from Johnson & Johnson, paired with this incredible Magic Vision app, make Kermit the Frog, Ms. Piggy and Gonzo the Great come alive.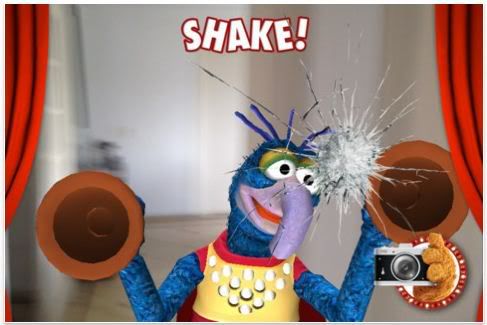 Parents simply download the app to their iPhone or iPad (sorry, it doesn't work on iPod Touches) and scan the bandage. Immediately on screen, Kermit pops up and starts singing "Rainbow Connection" on a swing, to the delight of all watching. The Muppets even respond to the movement of the gadget and kids can take snapshots of these characters in action, straight from the app.   
If you don't happen to have these Muppets bandages handy, the smart app developers provides an image of the BAND-AID within the app that you can send to your email to be printed. But I found you don't even have to go that far. Even scanning the image of the BAND-AID on my computer screen from the app activated the characters. So while having the BAND-AIDs at your house is not a requisite for seeing the magic of this Magic Vision app, having them certainly makes getting over those little boo-boos a lot easier.
If you have an app that you'd like considered for Screen Play, please contact LetsPlugIn@gmail.com.