Works on: iPad
Cost: $2.99
For: Kids who are learning how to write
When you hear the term 'pincer grip' you typically think of chubby baby fingers grasping at Cheerios and trying to pick small objects up for the first time. Interestingly, the pincer grip continues to develop throughout childhood and evolves from being used for grasping wheat cereal O's to grasping pencils that help write thank you cards and letters to Santa. 
If your child is entering the phase of life when pencils, crayons, markers, even chalk, are the writing implements of choice, Chalk Walk is a great app for getting her started. Created by an actual teacher named Mrs. Judd who taught kindergarten for 25 years, Chalk Walk is a way for kids to fine-tune their motor skills and practice the correct hand positioning for writing. 
The app encourages kids to hone their thumb-to-forefinger grip and adds an element of fun through puzzles and prizes as they trace the guide lines presented on screen. Chalk Walk offers a variety of fun exercises for kids, and more importantly, helps develop this often-neglected skill that they'll rely on for the rest of their lives.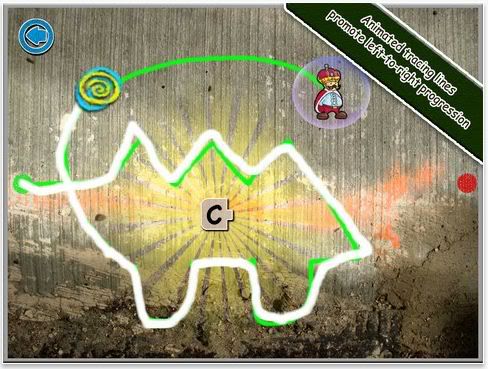 If you have an app that you'd like considered for Screen Play, please contact LetsPlugIn@gmail.com.