Works on: iPhone, iPod Touch and iPad
Cost: $1.99
For: Pre-K and Kindergartners learning to read
Anyone who is a fan of the Monkey Math educational app and its ingenious number-learning activities has probably been eagerly anticipating its word-based sister app. The wait is over! Monkey Word School Adventure is another great creation from THUP Games that teaches kids everything they need to learn their letters, phonics and A, E, I, O, U (and sometimes Y). 
There are different activities in the app for kids to rhyme, spell, recognize letters and identify sight words in a fun and interactive way. Whether it's helping a hamster through a maze through words, repairing a bridge with a lost letter or carving a letter into a stone wall, kids will be learning without even realizing they're doing so.
The graphics are fun and the voice in the app is encouraging throughout each activity. After a few have been completed, kids are awarded with a prize of their choice for use in their terrarium. If you have little ones who are learning their letters and learning to read, Monkey Word School Adventure is an app worth checking out.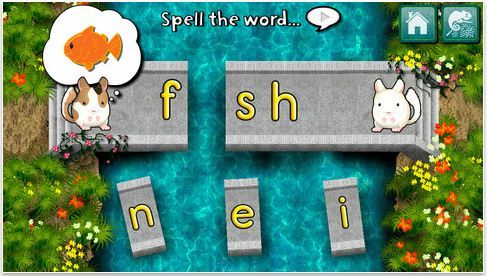 If you have an app that you'd like considered for Screen Play, please contact LetsPlugIn@gmail.com.