Works on: iPhone, iPod Touch and iPad
Cost: $1.99
For: Kids who like to jam
Future mixers, DJs, composers and pop artists will get a kick out of the latest app from Toca Boca, Toca Band. Toca Band takes kids of all ages on a musical adventure and lets them create their own harmonies, rhythms and chart-topping musical medleys. 
There are 16 musical characters, each offering a unique instrument, beat or vocal contribution (even one whose instrument is his chattering teeth!). But when any or all of these characters are combined together on stage, you can get a harmonious melody. Kids can drag and drop characters in and out of the stage to hear how the music changes with the addition or deletion, and get a good feel for how music changes by mixing up the ensemble that is playing it. You can even feature a favorite character on the center spotlight to him or her to have a solo performance.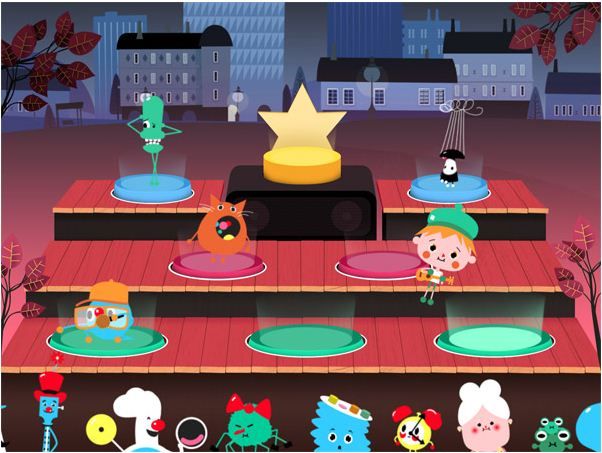 The song that is played is continuously on a loop – hopefully there will be other song options offered in future versions. But with the sheer number of combinations that these characters provide, the musical genius in your house will definitely have plenty of combos to thoroughly jam with Toca Band. 
To get a taste of the app's musical beats, check out the Toca Band trailer.
(Full disclosure: These apps were developed by Toca Boca, a division of our parent company Bonnier in Sweden.)  
If you have an app that you'd like considered for Screen Play, please contact LetsPlugIn@gmail.com.