Parenting's Wendy's Birthday Party
Works on: iPad
Cost: $2.99
For: Kids who love celebrating birthdays year-long
Parenting has partnered with O Story Story to create a series of educational and entertaining mobile apps, one of which is centered around a little girl's upcoming birthday. Wendy's Birthday Party is an interactive book and series of games that takes kids through all the steps needed to get ready for the big day, like planning the party, sending out the invites and decorating the cake.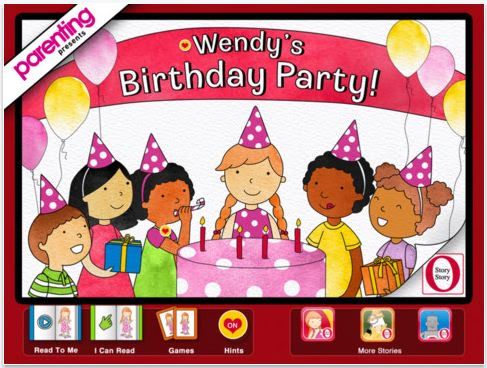 Kids can choose to have the story read to them or read it themselves. There are little "hint" stickers along the way if kids get stuck and fun activities throughout to keep readers engaged in the party planning process. 
If your kids are more into the birthday cake than the actual planning (who can blame them), check out the complementary app, Wendy's Birthday Cake ($0.99, iTunes), which lets kids decorate the cake to their delight. If your kids are counting down the days to their birthday (even if it's months away!), these apps can help tide them over until their very own big day. 
(Full disclosure: These apps were developed by O Story Story who licensed the Parenting name.)   
If you have an app that you'd like considered for Screen Play, please contact LetsPlugIn@gmail.com.