While Apple fans all over the world are foaming at the mouth to get their hands on the iPhone 5, there are equally exciting tech innovations happening in the world of technology for kids as well. Last year, the Leapfrog LeapPad made a huge splash into the kids' tablet market and immediately rose the ranks to the tops of kids' wishlists. 
The already sought-after kids' tablet now has even more reason to be coveted, with the new features introduced into its next-generation LeapPad2. Using the same foundation of the original educational and entertainment-focused tablet, the LeapPad2 features the same sleek look with just a bit more green. Its main new features include an additional front-facing camera (for still and videos) that features a higher resolution, double the memory (4 GB vs. 2 GB), a faster processor and an additional hour of battery life for an approximate nine hours of play. Though I'd consider getting a rechargeable battery pack for those long car rides. 
On the software front, all cartridges that worked with the original LeapPad still work with the LeapPad2, thankfully. Out of the box, the updated device comes with five free apps, one of which is a new app called 'Cartoon Director,' a fun app that lets kids develop and even star in their own cartoons. Other free apps include Pet Pad, Learning Songs and Art Studio. Additional apps can be purchased from retailers selling Leapfrog products or directly from the Leapfrog App Center which is easily connected using a PC and USB cord (no Wi-Fi capability).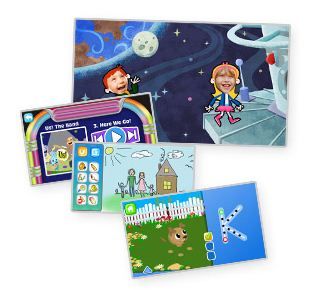 The entire app store features educational and age-appropriate content for kids ages 3-9 and offers everything from games to apps to music. And not only do these apps and cartridges work on the LeapPad2, but they can also be played with using another new product from Leapfrog, the LeapsterGS. A next-generation of the Leapster Explorer, the GS features a more streamlined design, a bigger screen and a built-in camera to boot. 
If you have an old Leapster Explorer and worry about having to upgrade to all new cartridges, you'll be relieved to know that all cartridges you already have at home will indeed work on the GS. 
Depending on what you're features you're looking for in a device (size, storage), if you'd prefer more educational (LeapPad2) or more gaming (LeapsterGS), and what your budget is, you will certainly find everything you need and more with either of these Leapfrog products. You may also finally get a break from your kids asking to borrow your device. 
The LeapPad2 is sold for $99.99 and the Leapster GS for $69.99. Additional cartridges start at $24.99.
**One lucky Screen Play reader will be the winner of a Leapfrog bundle including a new LeapPad2, a LeapsterGS, two cartridge games and a $20 gift certificate to the Leapfrog App Center! It's an incredible Leapfrog bundle valued at $240.
Simply click here to enter for a chance to win.
The giveaway runs from Tuesday, Sept. 25 – Tuesday, Oct. 2. (Read the official rules here)
GOOD LUCK!!