Seems like everywhere you look on the road nowadays, people have their cell phones glued to their ears. They are talking, dialing and checking voicemail while driving, worse yet, they're texting too. Despite text-while-driving banned in 34 states, and study after study likening it to being more dangerous than driving while intoxicated, people continue to do it. Not only are they risking their own lives and the lives of their passengers, they're risking the lives of fellow drivers on the road.
The Virginia tech Transportation Institute (VTTI) found that texting while driving is the most dangerous cell phone-related task that one could engage in. It is six times more likely to result in an accident than driving drunk (yes, SIX) and it causes a 400% increase in time spent with eyes off the road. Consider that for every six seconds of drive time, a driving sending or reading a text message spends 4.6 of those seconds with their eyes off the road. The stats are alarming, but what's more alarming is that people are doing it, and more shockingly, doing it with kids in the car. 
BMW recognized this growing dangerous trend and decided to create a campaign specifically aimed at parents to scare them out of engaging in this dangerous driving behavior. The ad starts off with a satirical take on how overprotective parents can be, being over liberal with hand sanitizer, wearing floaties in the tub, wearing a mouth guard on a tricycle, etc., but then quickly ends with a flash of a car crash while a mom is checking her phone. It only takes one second for an accident to happen and this ad is a great reminder for every parent, and every driver for that matter, to pay attention to one thing – driving. 
Here's the TV ad that kicked off in June:
And here's the corresponding print ad that shows a pixilated outline of a child running after a ball, obscured by the words on screen: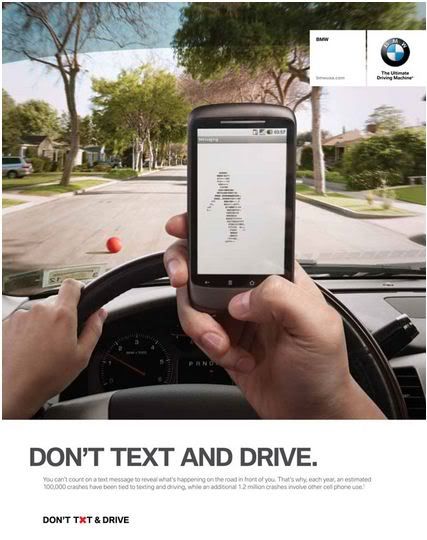 Scary, but effective. There are probably many parents who can relate to the overprotective parenting part. But if there are any who can put themselves in the seat of the texting mom in the ad, it is the only hope that seeing the tragic end will be all it takes to make them never text and drive again.  
If you have a question for Screen Play or would like to submit a product for consideration, please contact LetsPlugIn@gmail.com.