Remember the story of Tommy Jordan? He was the dad from North Carolina, disgruntled by his daughter's ungrateful behavior and her subsequent rants on Facebook, who ended up shooting her laptop for the world to see. 
Some were delighted, some were dismayed, but regardless of the wide range of reactions, disciplining on and around Facebook became a national topic. 
Well, the issue arises once again. According to MSNBC, Denise Abbott from Ohio took 'Facebook parenting' into action when her 13-year-old teenage daughter Ava started acting out. Teen drama and being disrespectful were the catalysts for Abbott replacing her daughter's profile picture with one of the girl with a big red X on her mouth with the caption: 
"I do not know how to keep my [mouth shut]... I am not longer allowed on Facebook or my phone. Please ask why, my mom says I have to answer everyone that asks."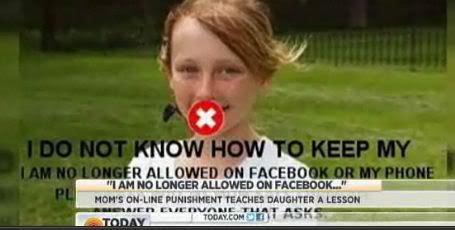 When asked by the TODAY Show what her reasoning was, Abbott replied, "I decided to do something that I know would totally impact her, and that the next time she started that she'd think, 'Ha ha I don't want my face all over Facebook again with a red X over my mouth…'" 
Abbott wanted to discipline her daughter in a social media world because she knows how prevalent this world is in her daughter's life.   
She also added that parents have to adapt their "parenting skills with the times."
In an email response to the TODAY Show, Abbott's daughter Ava replied that she feels the punishment was just and that her behavior warranted her mom's reaction.
Do you think Abbott's actions were warranted? Would you ever take action and discipline your kids via Facebook like these parents did?
If you have a question for Screen Play or would like to submit a product for consideration, please contactLetsPlugIn@gmail.com.