When you think of Polaroid, it's likely that one of the first things that comes to mind are those old school instant cameras with the pictures that you had to shake to dry. Outkast's "Hey Ya!" hit song from a few years ago brought that childhood action right back into memory, didn't it? 
Polaroid is one of those legendary companies that everyone knows about, but now, doesn't really have a clear cut product that people immediately pinpoint. They're hoping to change that company perception with the new launch of a kids' tablet, called, well, Polaroid Kids' Tablet. 
But there's fierce tablet competition out there – from the LeapFrog's LeapPad 2 to VTech's InnoTab 2 to Nabi. Everyone is vying for the attention of little touchscreen aficionados out there who are learning more and more through technology, and Polaroid is definitely jumping into the game on the later side. That said, the tablet includes many competitive features that you find with other 7" tablets. It offers: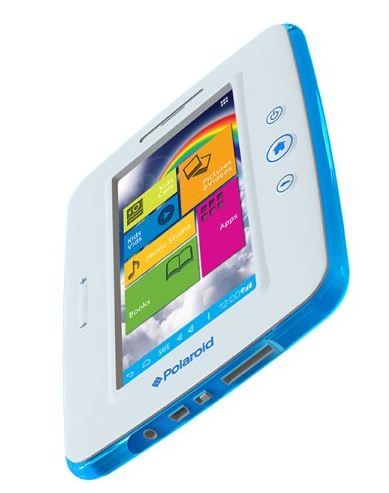 -          8 GBs of memory
-          Bumpers to protect it from drops
-          35 apps pre-loaded, as well as interactive books (through the Barnes & Noble NOOK bookstore)
-          A web browser with parental controls
-          Built-in speaker, headphone jack and microphone
-          Built-in 2MP camera
It remains to be seen though if this is yet another me-too app that is trying to compete with the several already successful kids' tablets out there, or if it will be a viable contender in the space. But with the recent announcement by Polaroid to also roll out Fotobars across the U.S. in 2013 for instant photo prints, Polaroid is looking to make a big comeback.
The Polaroid Tablet for Kids is available now for $149.99.