CineMama
Cost: FREE  
Works on: iOS
For anyone who is newly pregnant or in the earlier stages of pregnancy, the CineMama app is one of those must-haves for your iOS devices. Created by the March of Dimes, CineMama is a fun way to document your entire pregnancy through photos of your belly's expansion. 
Using the built-in "belly grid" provided to serve as a guide for uniform pictures throughout the nine months, you can take pictures as frequently as you like, every day, once a week, etc. depending on how much of a progression you'd like to see. The more pictures the better, because the app then converts all those stored photos into a short movie (with a customizable soundtrack!) that you can share with friends, family, and watch in amazement after the baby has arrived. The app also includes a diary function to jot in notes and also helpful tips for having a healthy pregnancy. 
Plus: A Slideshow of Belly-Painted Moms-to-Be
My one minor complaint about the app is that you can only log-in through Facebook. For someone who stopped using Facebook more than a year ago, I had to try and remember what my log-in and password was, but after doing that, at least they allow you to hide all CineMama-related posts from your newsfeed and keep the activity private. But it would be nice to offer a simple email log-in (that goes to all app developers!). 
Despite that small issue, the CineMama app is simply terrific and gives you a lasting memory of your pregnancy to treasure forever.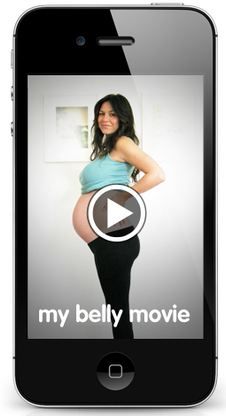 CineMama is available for free from iTunes. If you have an app that you'd like considered for Screen Play, please contact jeana@jeanatahnk.com.