Works on: iPhone, iPod Touch and iPad
Cost: FREE  
For: Busy parents. Is there any other kind?
With everything that parents have to juggle and remember on a daily basis, it's a wonder that our kids manage to get to school, have those permission slips signed, get to their doctor's appointments and have new cleats for their soccer games. The texts, emails and reminders back and forth from other parents, teachers and to ourselves (yes, I send myself email reminders) become overwhelming and sometimes it's easier to just have someone else do the typing for us. 
Dragon Dictation is like having a personal stenographer with you at all times. Simply launch the app, tap the red button and start speaking. As if by magic, it types out exactly what you say, which you can then easily copy into an email or text program, even send to Twitter and Facebook. You do have to get used to the verbiage (e.g. saying "exclamation point" or "comma" to insert the proper punctuation), but once you get the hang of it, you'll never want to type your own words again.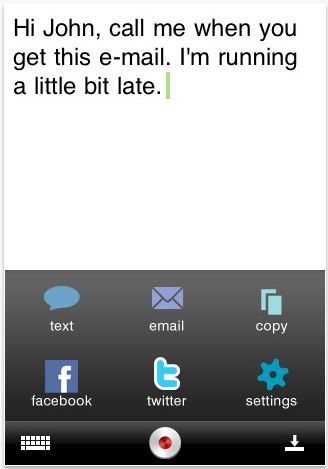 If you have an app that you'd like considered for Screen Play, please contact LetsPlugIn@gmail.com.