Works on: iPhone, iPod Touch and iPad
Cost: FREE  
For: Learning more about the prevention and treatment of lice
Say the word "lice" and people immediately begin squirming and unconsciously scratching their heads. Most parents have either gone through the experience of dealing with lice themselves or know someone who has and from all accounts, it's an absolute nightmare. There's no way to control whether or not lice breaks out in your town or school, but there are certain preventative measures you can take.
Fairy Tales Hair Care, a maker of all natural lice prevention products, recently launched its Facts of Lice app that provides information on current outbreaks by state and zip code, videos on prevention and removal and detailed information on what to look for when scouring your child's head. You can also report lice outbreaks to add to their registry. 
Lice is not something that anyone would ever want to deal with, but if it does happen, at least you can be better prepared.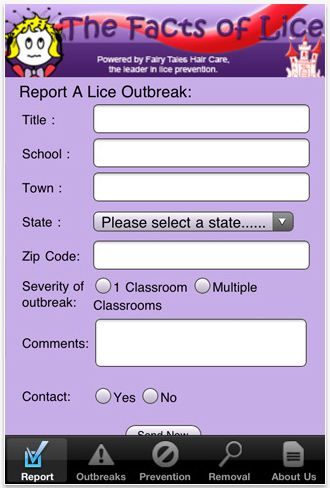 If you have an app that you'd like considered for Screen Play, please contact LetsPlugIn@gmail.com.