Works on: iPhone and iPod Touch
Cost: FREE 
For: Anyone who has a baby or is expecting one
If you're pregnant or have a baby in the house, it's likely that you have a question (or hundreds of them) at the tip of your tongue at all times. I know I did, when I was expecting. Luckily, thanks to modern technology, a lot of the questions that most new and expecting parents have can be found quickly and easily. And the launch of the new WebMD Baby app makes it even more convenient to get answers to those questions about doctor's visits, newborn care, colic, vaccines and much more.  
WebMD has become a household medical resource and its new Baby app is a terrific addition to its health offerings. Not only is there abundant information – 400 articles and 70 videos, to name a few – the app also comes with trackers for growth, diaper changes, sleeping, feeding, as well as a Baby Book for recording key milestones. Upon entering the app, you register for a free account (if you don't have one already) and can enter your child's age to then get personalized information on his or her growth, milestones, feeding information and more. 
There's also a helpful video Q&A section with WebMD's resident pediatrician that may answer those burning questions you have as you're nursing at 3AM.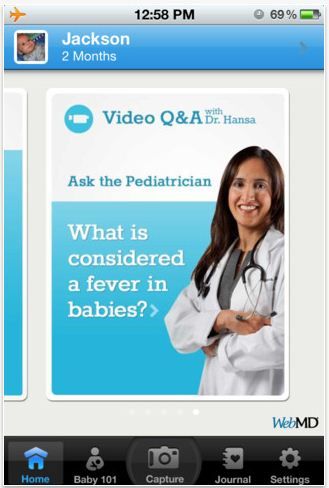 WebMD is so excited about its new app, it is offering an 8GB iPod Touch (value $200) so a lucky Screen Play reader can test it out! The giveaway runs from Friday, January 13 to Friday, January 20. Please click here to enter! 
GOOD LUCK!!