In honor of World Breastfeeding Week (August 1-7), I thought it fitting for the Screen Play app picks to focus on well, breastfeeding, of course!  Nursing moms no longer have to write how long the baby ate on little sheets of paper, nor will they ever forget which side they ended on. These apps do the remembering for you.    
Works on: iPhone, iPod Touch and iPad
Cost: $4.99 
This is the Cadillac of all breastfeeding apps – hence the higher price. Baby Tracker is a nursing companion that helps you keep precise track of how long you nursed, which side, time you nursed and everything else you'd want to know. There is a one-click timer that makes it easy to use with one hand and it also logs information for multiple babies. There are also helpful extras like the little safety pin to show if you ended on the right or left side and always displaying what time your last session ended, so you know how long it has been. 
Works on: iPhone, iPod Touch and iPad
Cost: $0.99 
Mommy's Milk is another nursing companion to help keep track of duration, quantity, which side nursed on and more. It keeps an ongoing log of all your nursing sessions, so you can quickly look and see how much your baby has consumed over the course of the day. You can also add notes to each nursing session and keep track of how it went.
Works on: iPhone, iPod Touch and iPad
Cost: FREE 
If you're looking for a free nursing app and don't need all the bells and whistles of the paid app, Baby Feeding Log is a good alternative. You can log in information for nursing, diapers and sleeping in a very simple and intuitive way.
And for Android users….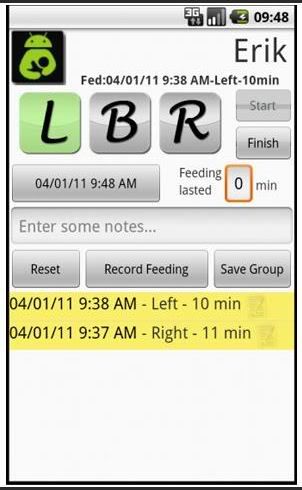 Works on: Android versions 1.6 and up
Cost: $0.99 
Similar to the iOS apps, Breast Feeding Tabulator keeps track of your baby's feeding times, allows you to enter notes and log how much the baby was given (if bottle fed). If you're into visuals, it even graphs your inputted data into pie charts and bar charts comparing durations on each side, feeding times and more. How fancy.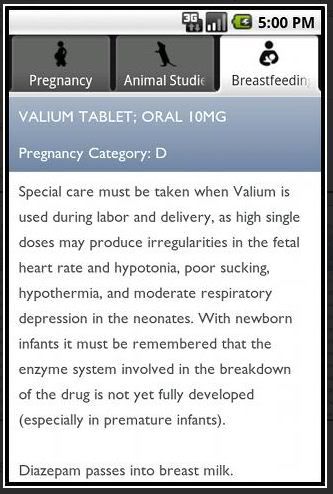 Pregnancy and Medication Safety
Works on: Android versions 1.5 and up
Cost: $2.99 
Pregnancy and Medication Safety is a great app for anyone who is nursing and taking medications. You can simply type in any medication and it will pull up information on how the medication affects your breast milk and your baby.
If you have an app that you'd like considered for Screen Play, please contact LetsPlugIn@gmail.com.