This week of Santa coverage included different types of websites for personalized messages from Portable North Pole, catching Santa in the act and tracking him on Christmas Eve with NORAD.
Since we're in such a festive mood, I thought it fitting to end this Christmas-themed week with some great Santa apps. And they're all free!
Works on: iOS devices 
Similar to Portable North Pole, Magic Santa delivers a personalized message directly to the recipient of your choice. You answer a series of questions directly from the app and then can watch the personalized video from Santa right on your phone. (The video is also emailed to you so you can watch on your PC). You can add personalized touches like name, photo, personality characteristics and the video incorporates them all. Great for kids and adults alike!
Works on: Android devices 
This Santa repeats every holiday greeting you say. In addition to mimicking your words, Talking Santa also responds to your touch whether you want to poke, swipe or tickle him. You can give Santa milk and cookies and also touch his bag of goodies to get a sneak peek at your gifts.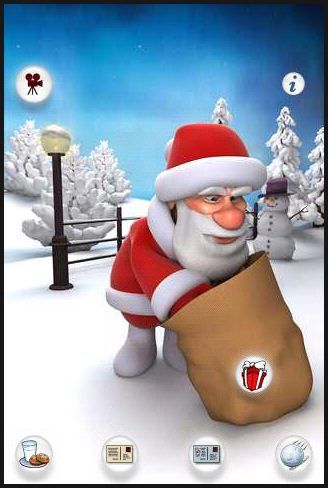 Works on: iOS devices 
Ever wanted to see what you'd look like as Santa? Santa Booth can help you do that! Simply upload a photo and watch it instantly transform into a chubby, rosy-cheeked face. You can then add the big white beard, hat, glasses and even white eyebrows to completely turn the face into Santa. The photos can be emailed or posted on social networks. It's a hilarious app that kids will get a kick out of. (For the full $1.99 version, you can also transform into Mrs. Claus, an Elf or Rudolph!)
There's a similar app available for Android phones here. It's also called Santa Booth, but it created by a different developer.
A 'Twas the Night 3D – Free Christmas Preview
Nothing says the holidays like Clement C. Moore's timeless Twas the Night Before Christmas tale. This interactive app tells the story of Santa's journey with great 3D graphics and subtle sound effects like a crackling fire. It's a great way to start off (or cap off) Christmas Eve while your little ones await the arrival of jolly 'ol St. Nick. 
Merry Christmas to all, and to all a good night!
If you have an app that you'd like considered for Screen Play, please contact LetsPlugIn@gmail.com.