Halloween is just around the corner and the little ghosts and goblins in your house are likely brimming with excitement about the costume and candy-fest that awaits them.
This is one of those holidays that you get to relive through your kids, regardless of whether you get dressed up in a costume or just follow them around the block while they amass huge amounts of candy.
And while the kids are running around the neighborhood with their friends and plotting out their next house, you're likely thinking about their safety if you're not there to follow them from house to house. With GPS technology, you can rest assured about their whereabouts with the following apps:
Works on Android 
Cost: $4.99 (but FREE on Halloween day from 8AM – 11:59PM EST!) 
Trick or Tracker is a GPS-enabled app that lets you know exactly where your kids are while they're trick or treating. The app installs on both the kid's phone (must be Android) and parent's phone (can be Android, iPhone, Blackberry or Windows 7) and tracks the whereabouts using corresponding "Where am I" and "Where's My Child" buttons on each respective phone. Parents can even program the phone to receive messages at regular intervals informing them of their child's location.
Works on iPhone, iPod Touch and iPad
Cost: FREE
This is another app that uses GPS-tracking to monitor locations, but with Footprints, it happens automatically and in the background without unnecessary check-ins. It's a simple and aesthetically pleasing interface, and enables you to track multiple people privately. Location data is only shared with people who have explicit permission to see it, no one else has access.
Works on iPhone, iPod Touch and iPad
Cost: $0.99
Trick or Treating is an app that allows you to bookmark important locations both via GPS coordinates of a spot you are currently at and through address information as well. If your kids are out trick or treating by themselves or if you are in an unfamiliar neighborhood, you can load in addresses of familiar locations and the app will provide directions if you get lost along the route.  
Works on iPhone, iPod Touch, iPhone
Cost: FREE
On Halloween night, flashlights are an essential part of your trick or treating gear. If the batteries on your traditional flashlight run out, you can use the iHandy Flashlight app as back-up. Not only does it offer a bright flashlight, it also comes with 30 other light effects such as strobe, neon, spiral, glow sticks and many more.
And Halloween apps aren't just for parents! Here are some that can keep kids occupied while they count down the days until Monday.
The Berenstain Bears Go on a Ghost Walk
Works on iOS and Android devices
Cost: $2.99 for iOS; $1.99 for Android
Kids will love reading about the ghost walk that Papa Bear is in charge of leading. This is an engaging storybook that offers varying reading modes (kids can read themselves or have it read to them), as well as high-quality graphics, learning words that are spoken when touched and interactivity that kids of all ages will enjoy.
ClickySticky Halloween Sticker Book 
Works on iPhone, iPod Touch and iPad 
Cost: $1.99 
The ClickySticky series is a fun set of apps that offers interactive sticker books for children. There are different apps that offer different themes, but the Halloween app features fun stickerscapes filled with ghosts, goblins, trick or treaters, candy and costumes. There are four scenes to put stickers on: Haunted Mansion, Candy Bag, Costume Dress-Up and Jack-o-Lantern Creator. 
Mickey's Spooky Night Puzzle Book 
Works on iPhone, iPod Touch and iPad 
Cost: $0.99 
In this storybook, kids follow along as Mickey has a Halloween party with his friends. But of course, since it's Halloween, they encounter some spooks and scares along the way. This storybook offers a feature that lets you record your own voice reading the book, which your kids will get a kick out of. There are interactive puzzles along the way and good graphics. With a story that's pretty short and simple puzzles to put together, this app will be a hit with the toddler and preschool set.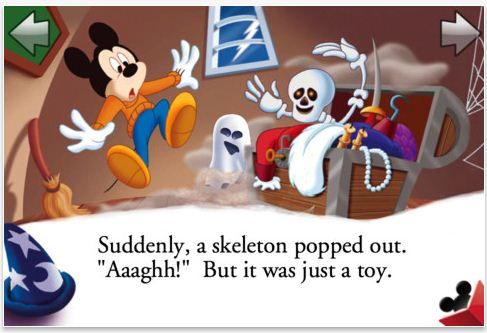 Works on iPad 
Cost: $0.99 
If kids can't get enough of carving and you're tired of scooping out yet another pumpkin, let them carve to their hearts' content with Halloween Pumpkin Creator. This fun app starts by letting you choose your pumpkin, then providing many options for eyes, noses and mouths. When done, your kids can light up their virtual jack o' lantern and enjoy their pumpkin masterpiece.
If you have an app that you'd like considered for Screen Play, please contact LetsPlugIn@gmail.com.