If any of you have princess-loving little girls (or boys), they will LOVE a new show from Disney called Sofia the First. Premiering this Sunday, November 18 at 7 p.m. on the Disney Junior channel, Sofia the First is a series about a princess that is actually a little kid, very much like those who will be obsessively watching her. 
The story is about a little girl named Sofia, a "commoner," who suddenly comes into royalty when her mom marries a King. With the help of three fairies named Flora, Fauna and Merryweather (remember them from Sleeping Beauty?) from the Royal Training Academy, they help Sofia learn what it means to be a princess. 
I'm sure there will be sparkle and glitter galore (and lots of singing), but in true Disney fashion, there will also be important lessons about friendship, kindness and generosity. In an interview about the show, one of the producers says, "Sofia learns that what's most important is how you act and treat other people, not how her tiara looks." 
Kids who are already fans of the show (without having seen it yet) can check out the Disney Junior website for video clips, games and more. 
There's also a Sofia the Princess iTunes storybook app out for $9.99.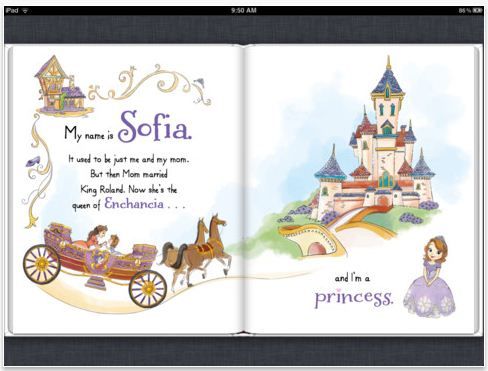 Will anyone in your family be watching Sofia this Sunday? 
If you have a question for Screen Play or would like to submit a product for consideration, please contact LetsPlugIn@gmail.com.