Last year Consumer Reports came out with a study revealing that approximately 7.5 million users on Facebook are under the age of 13. Since that time the numbers have undoubtedly grown and more underage kids are taking part in Facebook, either with the help of their parents or surreptitiously without their knowledge.
A survey released today by MinorMonitor, a free web-based tool for monitoring kids' Facebook accounts, found that not only are there countless kids on Facebook under the age of 12, but that of 1,000 parents surveyed, 40 children under the age of six were reported to have Facebook accounts as well.
There are so many concerns when it comes to kids this young and Facebook, primarily because they lack the developmental skills and maturity necessary to handle precarious situations online. As part of the survey, MinorMonitor asked parents what their primary concern was and offered 12 options including threats like sexual predators, cyberbullying, viruses, identity theft, pornography, alcohol themes and more. It's no surprise that the top concern among parents was sexual predators, coming in with 56 percent of the vote. The next three concerns following included sharing too much information, strangers and cyberbullying. And while cyberbullying rounded out the top four concerns of parents whose kids were on Facebook, 30 percent of parents surveyed admitted to having experienced cyberbullying already.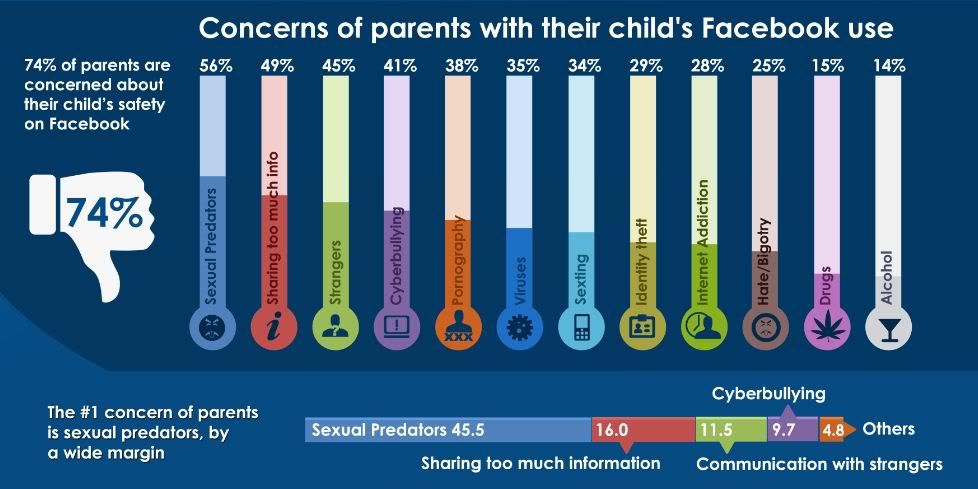 With kids spending an average of two hours a day on Facebook, it's imperative that parents get a handle on their kids' online activity. And half of them are, according to MinorMonitor. Fifty percent of parents surveyed stated they are actively monitoring their kids, by logging into their accounts, with or without their kids knowing. A quarter of parents are keeping tabs by friending their kids, but 17 percent aren't doing anything at all.
While any kind of monitoring is better than nothing, passive (or clandestine) methods aren't always the best approach to getting a good sense of what your kids are doing on Facebook, what are they saying, what photos are they posting and who they are engaging with. MinorMonitor received coverage on Screen Play last year as a great, free resource that uses analytics-based technology to keep track of questionable words and phrases that it flags and brings to your attention. It's also useful for tracking suspicious friends, like those who are significantly older than your child or ones who post lots of negative comments and status updates. 
If your kids are on Facebook, get involved and communicate with them. MinorMonitor offers the following helpful reminders when diving into the world of Facebook and your kids:  
Know children's passwords and other log-in information, and teach your children not to share their passwords or personal information.
Keep Facebook profiles set to private, and know Facebook's other built-in safety features.
Teach children about "friending" and that all requests from strangers should be declined.
Remind children that information posted online is public.         
If you have a question for Screen Play or would like to submit a product for consideration, please contact LetsPlugIn@gmail.com.