Father's Day is quickly approaching and you may be scrambling to think of a good last-minute gift idea for a great dad in your life. He probably doesn't need another tie, and although he loves the breakfasts in bed, I have a hunch he'd prefer a tech-focused gift to a short stack of pancakes.
There are so many cool products to consider, but I've picked a few that I think any techie dad would love. These options go from simple to splurge, with a lot in between, but are sure to make the recipient know how much he is appreciated. 
Here's to all the great dads out there!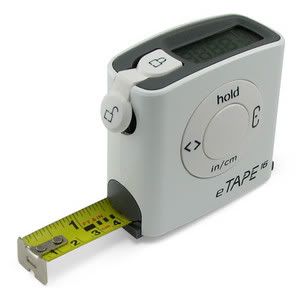 Why dads will dig it: DIY-ers will appreciate the ease of this digital measure tape, which has a large display and also memorizes measurements. It takes measurements in feet and inches or metric units and also displays fractions. If your DIY-er is forgetful, the device turns on and off automatically.
Where to get it: ThinkGeek
How much it costs: $19.99
Why dads will dig it: Create a music-filled house with the Orb Music Player. After downloading the Orb Caster software onto your computer, the Orb Player simply attaches to your stereo's audio input and uses your Wi-Fi connection to instantly stream your iTunes library, Internet radio or content from any other audio source. What's even better is that a free Orb app onto your smartphone can turn your iPhone or Android device into a wireless remote control for the Player.   
Where to get it: Orb.com 
How much it costs: $69
Why dads will dig it: If dad is always on-the-go and uses his iPhone for constant communication, you should consider getting him extra juice for his device. The Mophie Juice Pack doubles the battery life of the iPhone and comes in a thin, light-weight design without the extra bulk.
Where to get it: Mophie.com 
How much it costs: $79.95  
Why dads will dig it: Logitech takes remote controls to the next level with its Harmony line of universal remote controls. Who thought a remote could be this high tech? Dad will never have to deal with multiple remotes again and can configure the Harmony to be an all-in-one changer that offers touchscreen design and intuitive controls.
Where to get it: Online at Logitech or Amazon.com
How much it costs: Prices vary depending on model; the Harmony 650 starts at $80 at Amazon
Why dads will dig it: The techie golfer will appreciate the technology that comes in the SensoGlove, the first computerized golf glove that helps determine the best pressure of his grip for the ultimate swing.   
Where to get it: SensoGlove 
How much it costs: $89
Why dads will dig it: BBQ-ing and dads go hand-in-hand. Grill masters know that everything comes down to temperature. The iGrill uses an innovative app to turn an iPhone, iPod Touch and iPad into a wireless cooking thermometer to ensure that steak is cooked perfectly every time.
Where to get it: iGrill and Apple Stores
How much it costs: $99.99
Why dads will dig it: Dads who are frequently car-bound or who travel will appreciate the aesthetic and functionality of the sleek Jawbone Bluetooth-enabled device. There are all sorts of fancy features and functions that make communication completely hands-free, and it looks pretty cool too.
Where to get it: Jawbone.com
How much it costs: $129.99
LG 42LK520 42-Inch 1080p LCD TV
Why dads will dig it: Need to furnish that man cave with a brand new TV? You can't go wrong with this LG 42-inch hi-def flat screen. Anything from sports to games to chick-flick movies that you make him watch are crystal clear on this TV. This is definitely a splurge, but nothing but the best for a great dad, right?
Where to get it: Amazon.com
How much it costs: $799
If you have a question for Screen Play or would like to submit a product for consideration, please contact LetsPlugIn@gmail.com.