Your baby's first taste of pureed apples, your toddler's first wobbly steps, your son's first time swimming without floaties…there are big milestones in your life as a parent that you want to capture and treasure forever. But even on a daily basis, there are so many opportunities to take a snapshot of life to laugh about, groan about or just show off. With a camera in hand and your kids up to their usual antics, there are literally hundreds of moments you can capture each day. 
The problem with taking all these pictures is finding the time to download them all, especially when you've put off the arduous task and accumulated hundreds of pictures on your camera. It's one of those things that you keep telling yourself you need to do, but keep procrastinating. But lo and behold – what used to be such a pain about the picture-taking process is now a thing of the past with technology from Eye-Fi. 
The Eye-Fi Mobile X2 is a fantastic piece of technology that any camera-wielding parent should have. It's a memory card that automatically downloads photos from your camera to your computer (or mobile device) wirelessly! It works with Wi-Fi networks if there's one available, but if you're in a remote area with no known networks available, the Eye-Fi will use something called "Direct Mode" to use its own wireless access point using the Internet connection on your phone or tablet. 
There's "Eye-Fi Center" software that you download for free onto your computer, which is where your photos are automatically downloaded and basically gives you a central management system for all your photos. There's also a mobile Eye-Fi app that lets you also seamlessly download photos to your iPhone or iPad (or Android device) – without any wires or cords! Once your photos are uploaded, you can then easily show off those cute baby pictures on any social networking site like Facebook or photo management site Shutterfly, Flickr and more.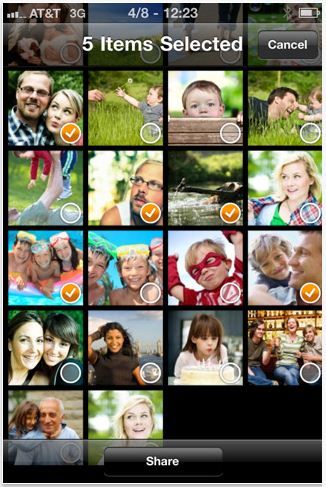 The cards are compatible with more than 1,000 different types of cameras and offer varying storage capacities and features. The Eye-Fi Mobile X2 is $79.99 and holds 8GB of storage, which is approximately 4,000 photos or 3 hours of video. 
Eye-Fi makes the photo process so much easier and does most of the legwork for you. With this in your camera all you have to do now is snap away.
For more information on where to purchase, please visit the Eye-Fi website. 
If you have a question for Screen Play or would like to submit a product for consideration, please contact LetsPlugIn@gmail.com.