How reliant are you on your smartphone? If you think about the sheer amount of information it provides every second of every day, and the ability for it to provide directions, send reminders, pay bills, provide ample distractions (for adults and kids alike!), it's no wonder that many people find themselves to be highly reliant on these mobile devices.
Life360, a provider of mobile personal safety applications, recently conducted a survey of 500 of its users to find out just how closely they are tethered to their cell phones. When asked what it would take for women to give up their smartphones for a day, 32 percent would for a day at the spa, 15 percent would for some new clothes or accessories and 11 percent would for dinner at her favorite restaurant. But a steadfast and mobile-reliant 28 percent said they would NOT give up their cell phones, even if they were paid!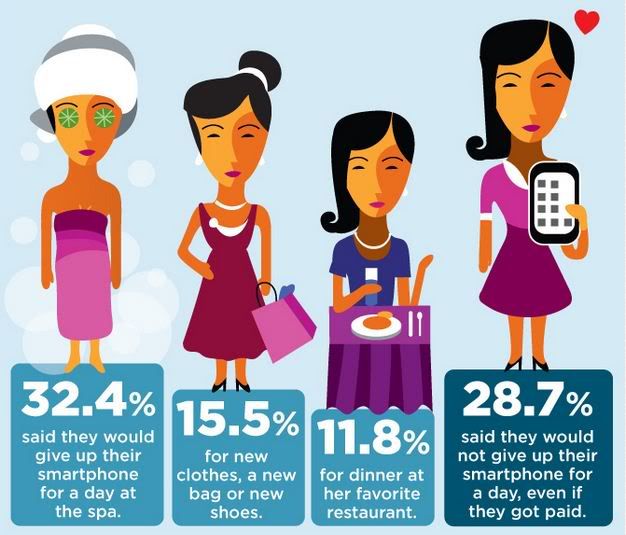 Smartphones seem to be running the family too. Fifty-seven percent of respondents guessed that all family members over the age of 13 would own cell phones within the next 18 months. And for all the moms, dads, sons and daughters who are already smartly connected via their smartphones, just how many times are they checking in per day? The majority of respondents (44 percent) check in one to five times each day, 16.5 percent check in five to ten times and 13% check in ten or more times per day. Would you call your kid 10x a day? The benefit to smartphones for parents is making sure their kids are safe, which is the main reason why 56 percent of survey respondents gave devices to their kids.
While moms are checking in with their families multiple times a day and would only give up their phones for massages, new shoes, nice dinners, or not at all, it's clear that the love affair is strong. More than half of moms in the study said they check their cell phones within five minutes of waking up, and more than three-quarters admit to using their cell phones in the last 10-15 minutes before going to bed.  
If moms are this reliant now, it'll be interesting to see what it'll be like in five years when 73 percent of moms estimate being even more reliant on their phones. And it's not just phone usage, another study found that the majority of moms can't go a whole day without using the Internet. The tie to devices is so strong that a term has even been created for those who fear being without them: nomophobia.
Where do you rank on the reliance scale? Would you give up your phone for a day at the spa?
If you have a question for Screen Play or would like to submit a product for consideration, please contact LetsPlugIn@gmail.com.