Do you keep seeing things on the Internet about "pins" and "pinning" things and have no idea what they're in reference to?  Well, the latest "pin it" craze comes from a hot startup called Pinterest. 
Pinterest is essentially a digital corkboard that serves as a central gathering place for any and all things you like on the Internet. When you see something you like, you can "pin it" (there's that term again) to your page and create a collection of your favorite things. It's a much more aesthetically pleasing way to manage and view all your bookmarks, in essence. And the great thing about Pinterest is that you can pin anything from a website to a picture to a video – everything you digitally collect is stored in one place. (You can even pin this very article! See icon to the left.)
In addition to creating collections for general items that please you, it's also very helpful for consolidating ideas for things like creating your baby's nursery or finding healthy snack ideas for your kids. And of course, with any big thing on the Internet nowadays, there has to be a social networking aspect to it. When you see something you like, you can share it with your social networks instantly, and also browse other people's pins and add "re-pin" to add them to your collections as well. 
Sounds great, right? Well, here's the one minor blip that may keep you from pinning things right this second. Joining Pinterest is by invitation only. I'm not sure why they're still following this model, possibly to retain the buzz around the site and maintain an air of exclusivity, but I'm sure that will be lifted soon. Getting an invitation simply involves going to Pinterest.com, requesting one and waiting – it could be hours or days, maybe even more. If you want a work-around to this, simply find a friend who's already on it and have her/him send you a link to join directly. 
Once you're on, you simply download the PinIt icon to your browser toolbar and click it anytime you see something you like on a web page. The ease-of-use is pretty handy and eliminates the need for copying and pasting links, downloading pictures, etc. There's also a free Pinterest iPhone app that lets you browse pins, re-pin and pin with your camera wherever you are.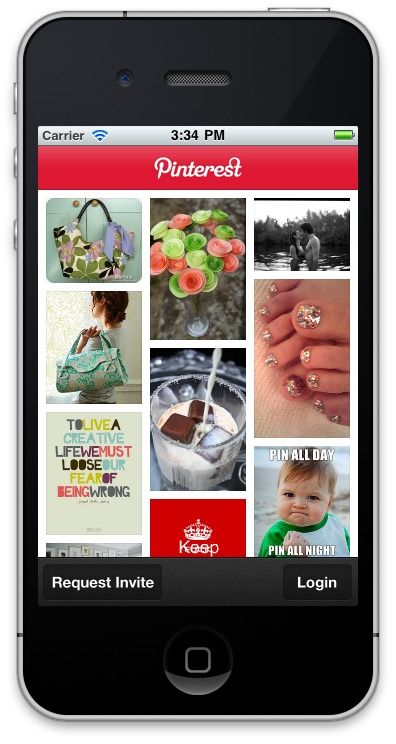 Pinterest is quickly picking up steam and TechCrunch reports that pageviews have increased 2,000 percent since its launch last summer and has already surpassed more established sites like Etsy. So now that you know what Pinterest is, will you "pin it"?
If you have a question for Screen Play or would like to submit a product for consideration, please contactLetsPlugIn@gmail.com.