There's something about an iPad that reels kids in, which is probably why they use it more than you do. The lure of the touchscreen and all the bright colors and sounds of a good app can keep them entertained for quite some time. The iPad does its job beautifully for keeping a kid engaged, but when you throw in a cool gizmo that uses the iPad as the game board, the whole family can enjoy it together. 
The Yoomi Duo is the first game I've seen that mixes the interactivity of the device with the tactical board game parts and pieces. After downloading the free Yoomi app from the iTunes store and your Duo is ready for play. 
It's pretty simple – each person takes a turn answering a question that asks which option they prefer, e.g. Would you rather fly to the moon or dive to the bottom of the ocean? Or, would you rather play the guitar or play the piano? The rest of the players put their stone token on the color that corresponds to what they think you chose and then you reveal your answer. The Duo then banks the winning tokens and whoever is out of tokens first is the winner. 
The game says it's geared towards kids ages 8+, but my two younger kids picked it up quickly and absolutely LOVE playing it. It is really easy to follow and even more fun to play. Plus it's really comical seeing your kids high-fiving at how well they know you. 
The Duo will let you reclaim your iPad from your kid, at least for a game or two of Yoomi.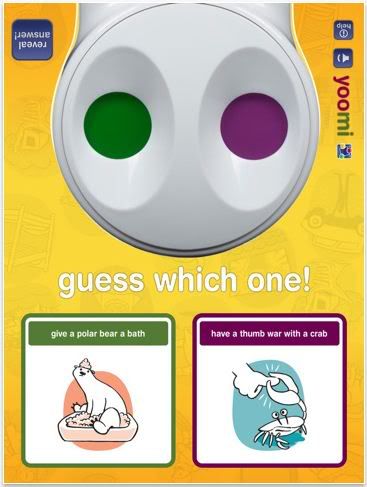 Yoomi Duo can be purchased from Toys 'R' Us for $29.98 or from these other online retailers.