Oh where, oh where has my baby gone?
Oh where, oh where could he be?
With his fuzzy head and
His gummy grin
Oh where, oh where could he be?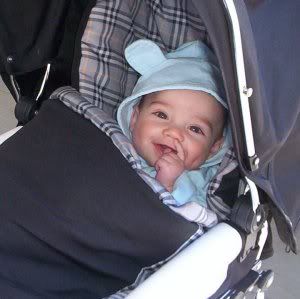 Oh who, oh who is this little boy?
Oh who, oh who could he be?
With his skinned up knees
And his atti-TWOde
Oh who, oh who could he be?

This morning he sneaked out of the house in his pajamas and I caught him riding his tricycle in the driveway. I was annoyed with him. When questioned, he said, "I need a go to store. Buy ice cream and coffee." As he sped away down the driveway.

Quickly it flashed before my eyes: him at 17 getting into a car. A man-child who will toss his hair back and give me a wave. "Going to the store, Mom. Be back in a few." And he will drive away, happy for the freedom. Not giving a thought to me left behind in the driveway.
And I'll wish he was still on that tricycle, wearing his Thomas jammies, only venturing as far as the edge of the driveway.
"Slow down," I call. Don't grow up so fast, I want to say. But I don't.
He turns his tricycle around. With an impish grin he comes racing back. I hold my arms out and he races into me, bike crashing into my shin, and through the pain, I savor it.
?????